Mosto Cotto 500 ml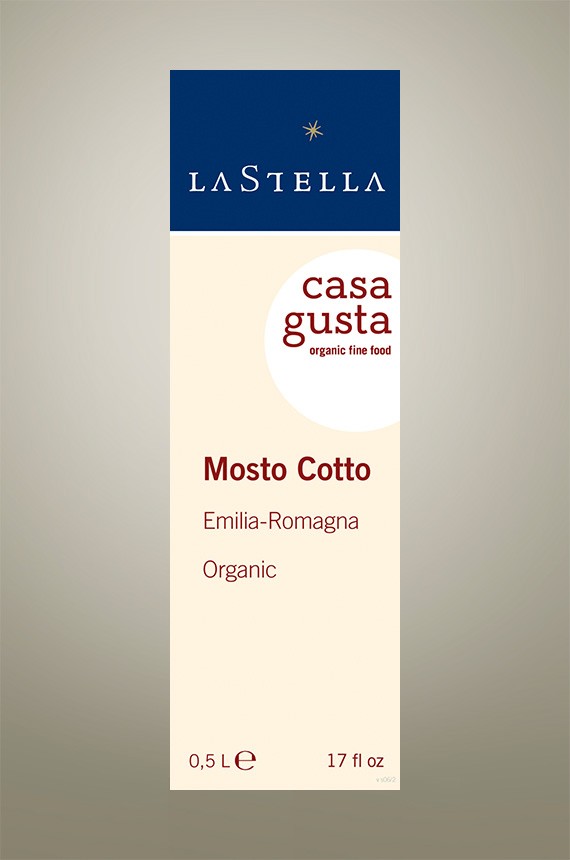 NOTES
LaStella and Italian/German Organic and Biodynamic fine food merchant Casa Gusta (supplier to many of the top Michelin star institutions throughout Europe) came to meet by good fortune and only years later started working together after gaining mutual respect and appreciation for each other's craft. We are friends first before partners.
Since 2010 we have been working with the fine folks at Casa Gusta to bring you the best of Europe's fine foods for your enjoyment.
Despite what many believe, a true Balsamico is not made from red wine but from grape syrup (Mosto Cotto) that is aged in a variety of wooden barrels for many years. Through the natural process of fermentation and oxidation, the grape syrup turns into a Balsamico Tradizionale Vecchio after a minimum of 12 years of aging and pending the approval of the local Consorzio's tasting panel.
Mosto Cotto is highly aromatic, with notes of dried fruits, caramel, and a tangy zesty sweetness. You'll find medium sweetness on the palate with a slight tang. Please note this product is not a vinegar yet as it has not been aged in barrel for the acetic bacteria to work its magic and turn it into a vinegar. It is simply a delicious and naturally made grape syrup that can accompany other vinegars and basic balsamico and/or condimento to add further depth, richness and complexity.
FOOD PAIRINGS
Mosto Cotto is very versatile in its usage. Mixed with carbonated or still water, mint, and orange zest, it makes a delicious and natural soda with no added sugar. It is delightful when drizzled over muesli and vanilla gelato. Also excellent to refine sauces, gravies and can be used in dressings to add a new dimension and depth of flavours. Braising shallots in red wine along with few spoons of Mosto Cotto yields a delectable topping and sauce for your steak!