2019 Artakama Viognier/Roussanne
1.5L Magnum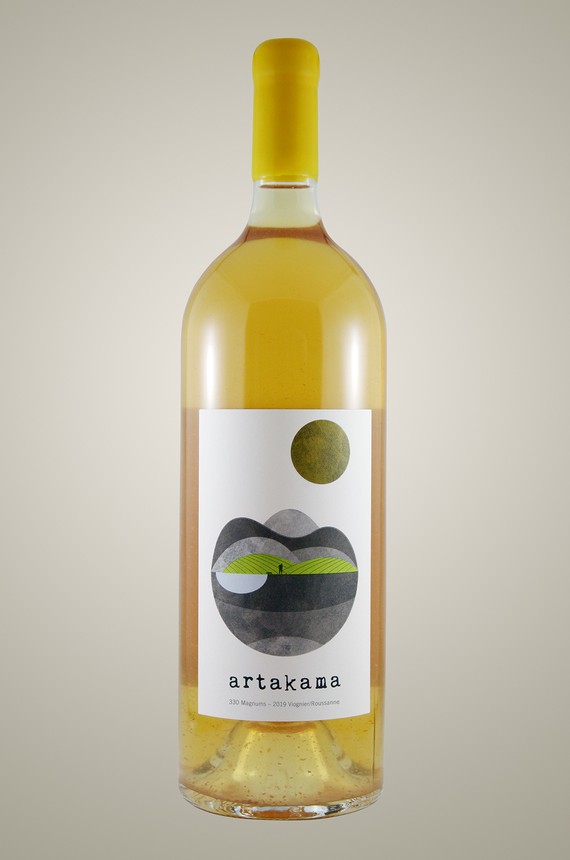 wiNEMAKING NOTES
The 2019 Viognier Roussanne is our third commercial vintage release of this very sensible and approachable orange, otherwise known as "amber" wine. This vintage continues to display a mix of low cropped, ripe stone and tropical fruit. While the 2018 Viognier Roussanne was nuttier and more herbal, this vintage shows more baking spices mingling with a touch of river stones and a gentle petrichor aroma. This lovely orange displays a medium body with balanced tannins. Fans of Northern Rhone-originated white grape varieties need to pay close attention here. These wines are grown and gently raised with classics in mind. No surprises - nothing funky or off-beat here!
Sommelier Notes
Artakama is a relatively new project that is creating a lot of buzz down in Oliver, BC. These wines express a true sense of time and place, with nothing added and nothing removed. The team behind Le Vieux Pin and La Stella are once again putting BC wine on the map with this line of non-interventionist forward-thinking wines, that are environmentally conscious and sustainability focused.
Forget what you think you know about white wine and start fresh. While a seemingly new trend, orange wine is actually an ancient winemaking method. Orange wines indeed look orange in the glass, as they are made with white grapes that have been macerated on their skins (just like red wines). The maceration period naturally extracts colour, tannin, and other phenolic compounds. The degree of colour depends on grape variety, vintage, and winemaking. This form of winemaking means that you need something worth extracting from the skins, therefore good farming practices and the quality of the grapes become essential.
This is a blend of high-quality Viognier and Roussanne grapes from the Golden Mile Bench that spend 3 months on their skins. Viognier tends to have lower acidity and higher alcohol, as the grapes don't develop their signature aromas until late in the ripening season. Roussanne is the perfect blending partner because it offers acidity and a perfumed fruit character. One of the most intriguing aspects of the final blend is its tannic intensity and its salty minerality.
While delicious on its own, pairing it with a charcuterie board makes it truly addictive! Wines with a touch of bitterness or astringency, like skin-contact whites, pair really well with something fatty - cured meats and salty cheeses make this a match made in heaven. Treat it like a red wine and don't drink it too cold in order to let the flavours truly express itself. On the palate, you will taste notes of apricot, mandarin, peach, passionfruit, honeycomb, walnuts, and fennel.
Kristi LinniEboe - Como Taperia - Vancouver