2018 Retouche
Historical Bordeaux Blend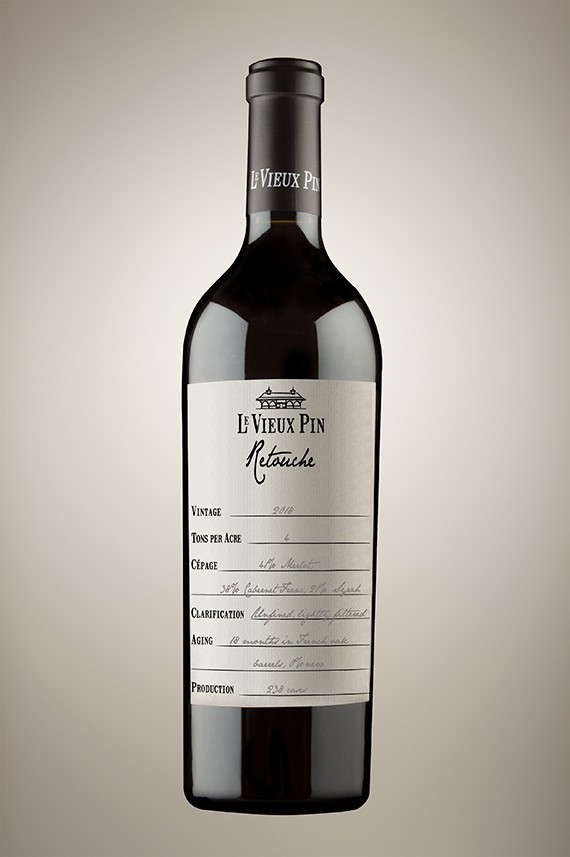 Sold Out - New Vintage coming Spring 2022
Winemaker's Notes
A mere 238 cases (9 barrels) of Retouche were made in 2018. Retouche pays homage to the historical practice of "Hermitaging" wines in Bordeaux during the 1800's. Winemakers in Bordeaux added Syrah (often from the famous vineyards in Hermitage) to their wines to add warmth, roundness and comfort-characters sometimes missing from the structured, powerful Cabernet Sauvignon.
It would be incorrect to simply call Retouche a Cab/Merlot/Syrah (CMS as they call it in parts of the new world). We conducted dozens of trials with various barrel samples and different percentages of Syrah to achieve the result we were looking for (Syrah acting as invisible marionette strings to bring the Cabernet to life). In the end we succeeded, adding only enough Syrah from the right parcel so that it sits invisibly behind the Cabernet and Merlot blend filling in the gaps. After all, it wasn't until the late 1900s that the world learned about this fraudulent practice in Bordeaux.
Food Pairings
The complexity & balance of this wine can be complemented with the South-Western French style of cooking with a hint of spicy flavours of the Pyrenees.
Meat-Based
Braised Rabbit & Prune, Chicken Ballotine and flavours of Perigord Black Truffles are all lovely matches.
Plant-Based
Mushroom & Spinach Quiche or Stuffed peppers with mildly spiced lentils and potatoes are delicious too.
accolades and Reviews
"The nose has an inviting, aromatic, savoury, black fruit note. The flavours are mix of black cherry, blackberry and plum fruit with moderate, silky tannins and very bright acidity. The concept of Hermitage-ing the Bordeaux blend with some Syrah is successful but this wine is only beginning its journey. Try with lamb or beef or wait another three to five years." (Tasted August 2016). - Anthony Gismondi
Wine Profile
Production Notes
2829 bottles/235 cases