2017 Espressivo
Cab Dominant Tuscan Blend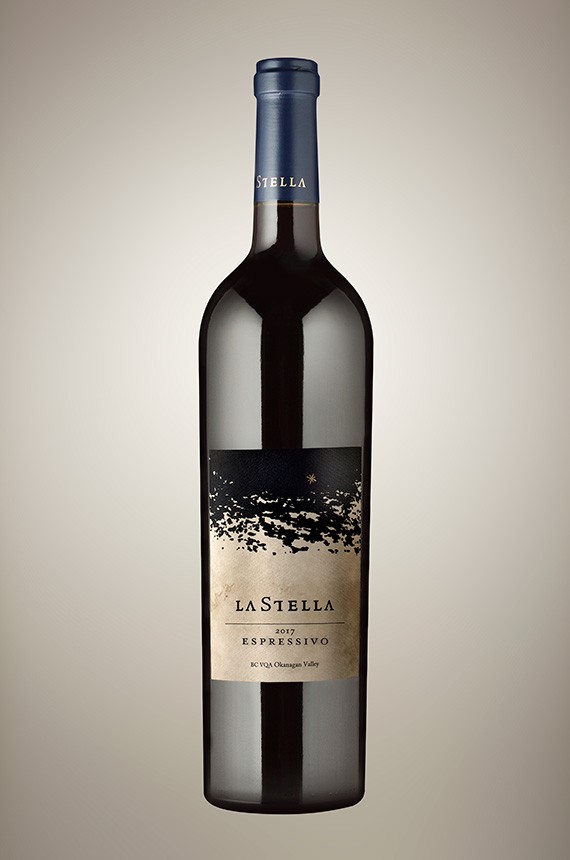 Winemaker's Notes
A Tuscan-inspired red blend much like its sibling Fortissimo, except Espressivo, is Cabernet (Sauvignon and Franc) dominant while Fortissimo is Merlot dominant.
Espressivo is our way of paying respect to the pioneers of Tuscany who challenged the traditions of winemaking in the 50s and 60s to gain recognition for their wines.
2017 Espressivo is flat out gorgeous. While distinctly Okanagan, it can be a ringer in an all Super Tuscan tasting. The large format puncheons and Hungarian/Slavonian oak are evident in the subtle way the oak is present with whispers of baking spice nuances. The fruit profile is dark bramble and currant fruit, married with savoury, herbal and spicy notes. Compared to its sibling Fortissimo, the tannins here are edgier and the wine is more structured yet also more expressive on the nose. We look forward to following the evolution of this wine in the bottle for many years to come.
Pairings
Di Carne
Swiss Chard Gnudi with Lamb Ragu, Braised Rabbit Pappardelle Pasta or Confit Duck Leg with Tuscan Beans.
Vegetariano / Vegano
Lentil Pasta with Braised Tofu and Mushrooms or Cashew Cheese Lasagna with Traditional Peperonata.
technical Details
| | |
| --- | --- |
| Region: | South Okanagan |
| Soil Type: | Various |
| Age of Vines: | mostly in their teens |
| Yield: | 2.5 |
| Production: | 469 cases |
| Alcohol: | 14.5 |
| Aging: | 20 months in Slavonian and French oak barrels, puncheon and botti, 34 % new oak in the first year of aging, then racked into all neutral vessels |
ACCOLADES
90 POINTS
Intensely herbaceous aromas. Ripe strawberries with a medium body. Rounded with textured fine tannins.
SUSAN HULME (MASTER OF WINE) | DECANTER MAGAZINE (INTERNATIONAL WINE CHALLENGE) | TASTED: FALL 2020
92 POINTS
A wildly entertaining red blend, led by cabernet franc, followed by cabernet sauvignon, merlot and finally the only Italian grape involved, and that would be sangiovese. Like leaving Bordeaux, making a stop in Tuscany and settling in the Okanagan Valley. And so "espressivo" is not the only way to think about this truly savoury and multifarious red agglomeration. I would suggest another vernacular, as in "significativo," which means the same but not. Significant and meaningful more like it because tasting this is like taking a bite out of something gustatory, meaty and substantial. Salty protein that has been studded with savoury aromatics such as rosemary, bay leaf and fennel, roasted medium rare and sliced. The muscularity is noted and thus in the Italian masculine are the adjectives employed, but truth is this kind of power is gender neutral. Pour a glass and relish in the "incontro significativo" and one where the wine, not the nomenclature is the focus. Drink 2021-2027
MICHAEL GODEL | WINE ALIGN | TASTED: SEPT 2020
93 POINTS 5/5 Value
2017 marks another impressive release of La Stella's "super Tuscan" style blend, in this case about half cabernet franc, with equal parts cabernet sauvignon, merlot and sangiovese, aged in both barriques and larger puncheons, with just over 1/4 new wood, all told. From the deep, saturated red colour through the expansive nose and broad palate, this is classy and sophisticated red wine. I love the broad spectrum of ripe, dark fruit, floral and wood spice notes, freshly roasted coffee bean, blood and iron, and more, in a complex expression. It has the depth and structure to age into the early '30s, though also the polish to deliver pleasure far earlier, from 2021/22. A really finely-detailed wine that stands comfortably alongside many of the iconic Tuscan wines that inspired it in the first place, and more than fair value as such.
JOHN SZABO (MS) | WINE ALIGN | TASTED: AUGUST 2020
Wine Specs
Varietal
Merlot, Sangiovese, Cabernet Sauvignon, Cabernet Franc