2017 Equinoxe Syrah 3L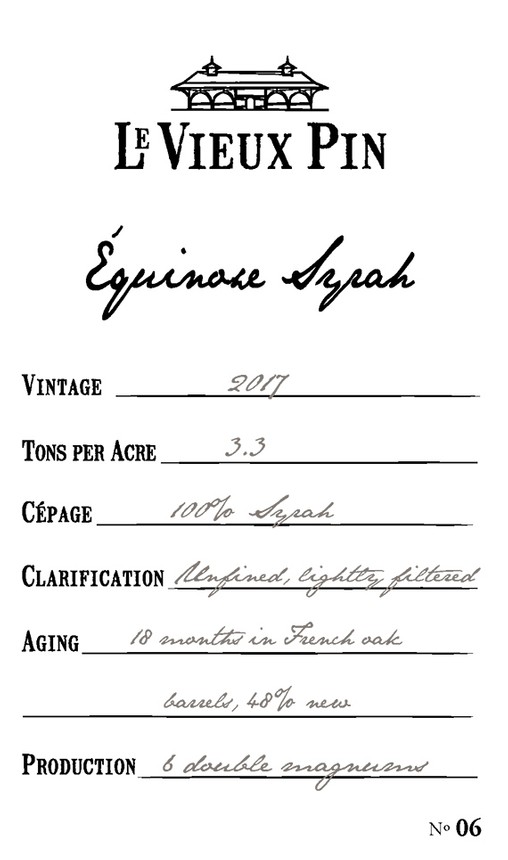 WINEMAKING NOTES
Équinoxe: equal day, equal night. Equal heat of the day, equal cold of the night. Equal new world, equal old world.
The 2017 Équinoxe Syrah is comprised of fruit grown in various sub-appellations in the South Okanagan Valley. A traditionally made Syrah in the sense that the sum is considered greater than the parts (lieu-dit trumping single cru à la Chez Jamet, JL Chave, Clape). The resulting effort is a very complex wine with a medium+ garnet colour that perfectly and effortlessly combines elements of both old world and new world styles. This monumental wine is at the same time feminine and masculine – it has grace and power, spice and florals, game and savoury notes. Yin and yang come together to showcase a perfectly balanced Syrah.
2017 is a structured year. Harsh winter, late spring and less than ideal weather initially all played their part to lower the yields and make for an impressive, vin de garde kind of vintage, esp for Syrah. The fruit profile is at the same time black and dark red bramble fruit scented, albeit fuller, deeper and a tad darker. The floral notes are distinctly that of Violets, but more savoury notes are layered on top. Ample black pepper with some white pepper and a sprinkling of baking spices are coaxed out of the glass. With age, as it tends to do, we expect those beguiling black olive notes and that pleasant subtly animalic note to come to the foreground. one for wine lovers who are more inclined toward the new world style and those who love the exuberance and fruit-forward quality of big wines. Personally, we like to leave this wine in the cellar and forget about it for a few year, that is after opening and enjoying a few bottles in its youth.
PAIRING
Centuries ago the black pepper spice trade launched voyages, wars and epic tales. Today we suggest trying a black pepper crusted New York Steak paired with this wine to fill the air with all that peppery goodness and celebration of the world's single greatest spice.
TECHNICAL DETAILS
| | |
| --- | --- |
| Region: | Black Sage Bench, Osoyoos Lake District |
| Soil Type: | varried |
| Age of Vines: | 11-16 |
| Yield: | 3.3 |
| Production: | 202 cases of 750ml, 36 magnums, 6 double magnums |
| Alcohol: | 13.9% |
| Aging: | 18 Months in French Oak, 48% New |
ACCOLADES
92 POINTS- 4/5 VALUE
Le Vieux Pin's top end syrah cuts a particularly dashing figure in 2017, perfumed and finessed, yet tightly wound and structured, and destined for more some time in the cellar. I like the ongoing integration of fine, grainy tannins and the vibrant acids, while nearly half new-oak ageing goes essentially unnoticed, such is the depth of fruit flavour and density that has been fully digested by the wine. There's a fine, peppery streak in the varietal idiom, and length and depth are excellent. Another refined and balanced syrah from Le Vieux Pin.
JOHN SZABO (MS) | WINE ALIGN
93 POINTS. 4/5 VALUE
Équinoxe is all about balance: equal day, equal night, equal heat of the day, equal cold of the night, and equal New World, Old World. But more than that, it represents the top of the syrah chain at Le Vieux Pin, and one of the best in the Okanagan Valley. The fruit comes off a mix of South Okanagan Valley sub-appellations honouring the adage of the sum is always greater than its parts blending method. In 2017 the wine was monumental and elegant in itself, a win-win, but on the palate, it is simply a joy to taste and sip, and it has a long life ahead of it. From wild brambly dark fruit to savoury desert scrub laced with licorice and pepper, this is brooding, complex, and will age effortlessly. Brava.
ANTHONY GISMONDI | GISMONDI ON WINE