2015 Petit Blanc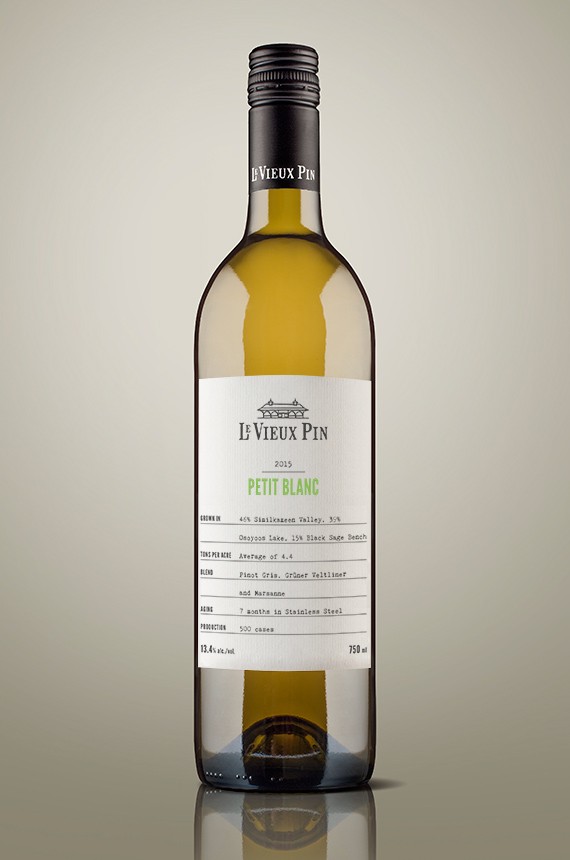 WINEMAKER'S NOTES
Petit Blanc is a wine that is lithe but not light, fun, and free of heavy-handed winemaking. No new oak, no malolactic fermentation, no battonage, no nonsense. A wine that hits above its weight and delivers a strong quality to price ratio. A wine that you can readily open on a weeknight and pair with a variety of cuisine without putting a dent in your wallet.
The 2015 vintage of this unique blend is Pinot Gris, Gruner Veltliner and Marsanne. Stone and citrus fruit flavour elements are everywhere: apricot, peach, yellow plums, Meyer lemon and melon abound on both the nose and the palate, while there is a core citrus note throughout. The most attractive quality of the 2015 Petit Blanc is the phenomenal balance between the components while the alcohol is kept in check clocking in at 13.4%. The entry is round, focusing on the mid-palate while the finish is crisp and refreshing.
FOOD PAIRINGS
Petit Blanc is extremely versatile with virtually endless pairings. We enjoy an endive salad and a fruit and cheese plate on for a sunny Sunday brunch, or orange roughy, quinoa and bacon wrapped scallops on a Friday evening.
ACCOLADES AND REVIEWS
"When you live beside the Pacific Ocean you need a perfect wine companion to pair with your favorite seafood dishes. Luckily we also live in a province that takes wine making seriously and here's a prime example. There's nothing little about this white. As the label tells you it's mostly Sauvignon Blanc along with a healthy infusion of pinot gris and other varietals too. The result is a complex and delicious blend that's loaded with stone fruit…peaches, plums and apricots accompanied by enough citrus to match the bounty of the sea. This is a beautifully balanced wine that has a gorgeous, long finish. Equally impressive is the price. Don't miss out on this B.C. beauty." Ron Wilson, Wine Columnist