2014 Syrah Cuvée Violette
Library Re-Release - 3 bottles p/p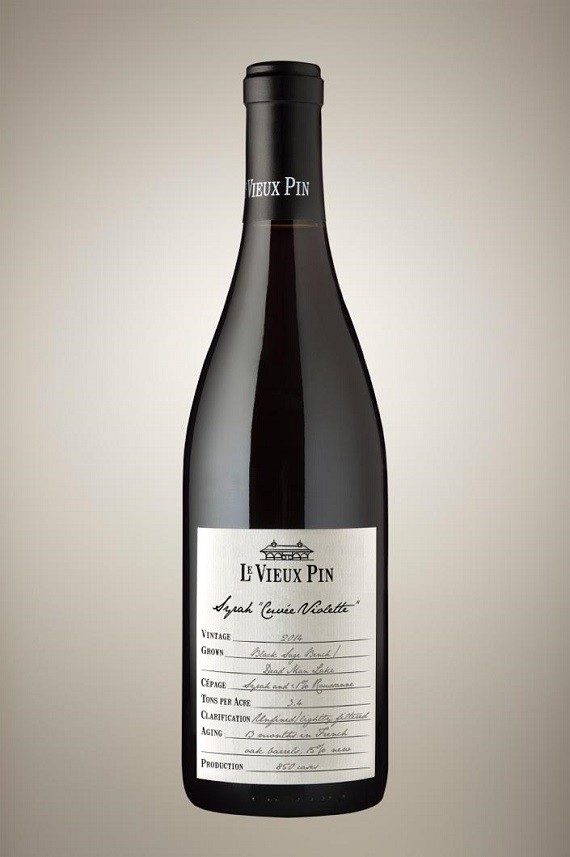 Winemaker's Notes
Cuvée Violette, as the name suggests, displays the perfumed and floral side of this noble grape variety. The palate is silky smooth thanks to a gentle co-ferment with about 1% Roussanne. The focus is on the feminine and graceful qualities of Syrah coming to the foreground. Wild mountain herbs and flowers mingle with pepper and spice. Red bramble fruits burst on the nose and on the palate. While 2014 is overall an early drinking vintage, this wine can be aged for the mid-term (5-7 years). It will most likely continue to improve past that age too.
Food Pairings
Meat-Based
Crispy-Skin Duck Breast with a Lavender Honey Gastrique or Steak Dianne with a Flambe of Crème de Violette and Cassis Moutarde is a match made in heaven as well.
ACCOLADES
"Another excellent syrah from Languedoc trained winemaker Severine Pinte. The fruit is from estate vineyards in north Oliver and the Golden Mile. It has a lovely, dried cherry fruit nose with pepper, dried spice and some meatiness. It's medium weight, dry, peppery, very firm and youthfully tannic on the palate. Quite savoury. Very good to excellent length. Tasted February 2016." 90 Points – David Lawrason
"We just love what winemaker Severine Pinte is doing at Le Vieux Pin with syrah. The entry level Violette is a perfect introduction to quality, BC syrah. Like the 2013, the 2014 was co-fermented with one percent of Roussanne because the viognier wasn't available when the syrah was picked. The style is floral and peppery. The entry juicy and silky with bright, spicy black cherry floral fruit flavours with no meaty notes. This will improve in the bottle for three to five years or you can drink it now with grilled pheasant or lamb. Excellent value." 90 Points – Anthony Gismondi
"The antiquated saying "Sugar and spice and everything nice" comes to mind when tasting this uber-feminine Syrah loaded with gentle aromas of ripe black cherry, raspberry-chocolate, crushed flowers, vanilla, white pepper, sweet tea and tapenade. The middleweight palate offers good continuity from the nose with similar flavours, youthful, yet, finely-tuned tannins and a pronounced layer of spice, especially on the mouth-watering finish where wild berry acidity and pepper notes linger. Drink now-2020." 90 Points - Liam Carrier | IconWines.ca
"These are superb wines with real definition, and count among the country's very best. They are quite northern Rhône in style, but they also have a bit of the Okanagan about them." Dr. Jamie Goode | WineAlign, on our Syrah series.
Wine Specs
Varietal
Syrah co-fermented with less than 1% Roussanne