2012 Maestoso 375ml
1/2 Size Bottle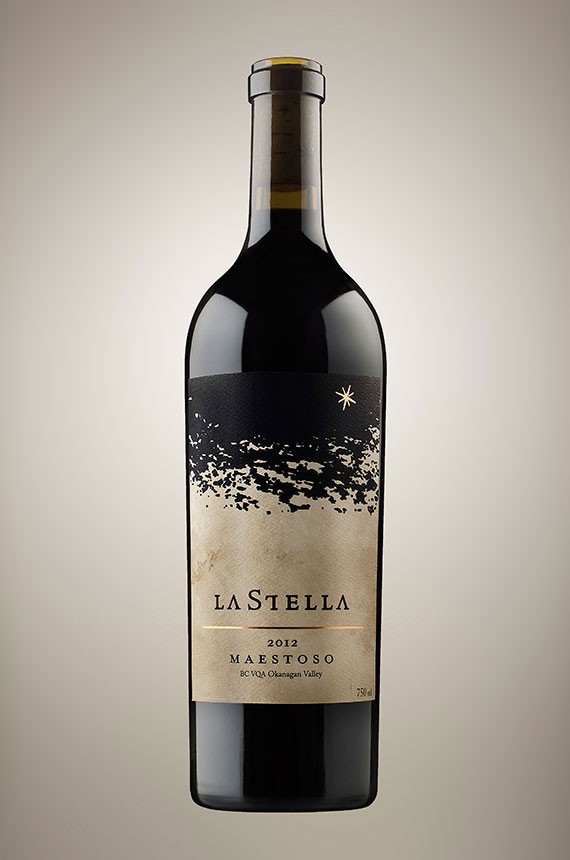 Winemaker's Notes
Maestoso is the highest peak in the crescendo, that moment of majesty. It is our flagship wine and the jewel in the crown of LaStella. After three atypical vintages in a row, the 2012 growing season is a return to a more typical summer growing season in the South Okanagan Valley. After an initial scare of unusually high record rainfall in late spring, the remainder of the growing season was an absolute dream come true.
Mid July until late fall gave us very hot days combined with typical cold desert nights. Growing degree days for the South Okanagan were above average and certainly much higher than 2010 and 2011. One of the hallmarks of this vintage was extremely uniformly ripe and pristine grapes with minimal need for sorting (quite the opposite of 2008, 2010 and 2013). The resulting wines are more fruit forward with round structure thanks to plenty of sunshine and heat units; the cool nights resulted in excellent, piercing aromatics and bright acidity in the wine.
In our continuing efforts to ensure that this already breathtaking and astoundingly rich wine is as complete and hedonistic as possible, but still carry with it some restraint, we blended in 17% Merlot from our cooler Feuille d'Or vineyard in the Golden Mile to help lift the natural acidity and bring some grit and back of the palate tannins to the finished wine. Maestoso is always opaque in color and 2012 is no different. On the nose, one finds pronounced notes of salal berries, smoked meat, stella and lipin cherries and café mocha. Huge mouthcoating, creamy, ripe tannins leads through to an astonishing finish lasting well over a minute. A monumental wine indeed.
Food Pairing
Maestoso demands the best cut of meat available: a 30+ day dry aged, grass-fed rib eye would be ideal. A simple preparation will let the wine speak for itself and show you all that it has to offer.
ACCOLADES
"True to its impressive lineage, the 2012 Maestoso represents the peak of Merlot production in the Okanagan Valley. Elegant, layered and supremely complex. Look for dark berry, sweet plum, toasted oak, dark chocolate, fresh herbs, mocha, vanilla toffee, menthol and warm spice aromas followed by a medley of similar flavours on the ultra-dry palate with a strong focus on the juxtaposition of the berry and savoury characters. Berry, spice and smoke notes linger and linger and linger on the finish. Sublime. With several hours of decanting you can enjoy this wine today, though, 2-3 more years of bottle age would maximize your investment. Drink 2018-2023+." 93+ Points - Liam Carrier | IconWines.ca
Though merlot is planted a great deal in the Okanagan, it rarely reaches great heights. This wine is one of the exceptions. Maestoso (the Beast) absorbs all of the southern Okanagan's rich sunshine, rooted in heavy clay and gravel soils and compacts it into a dense, full bodied red. Deep blackberry, leather, black plum and cassis fills the nose. The compact palate is dominated by ripe plum, which leads wild blueberries, supple leather, bitter black cherry, finely ground spices and a hidden lift of mint along cushioned, chewy and ample tannins. An edge of tart acidity lifts all this density through a very long, bitter black cherry finish. Southern Okanagan merges with Italy via this wine. Just a baby, decant and pour now with herbed rack of lamb or wild boar, or be rewarded with 3-5 years in the cellar. Looking forward to tasting this again in future.
Treve Ring | Gismondi on wine | Tasted: June 2015