2012 Equinoxe Syrah
Library Re-Release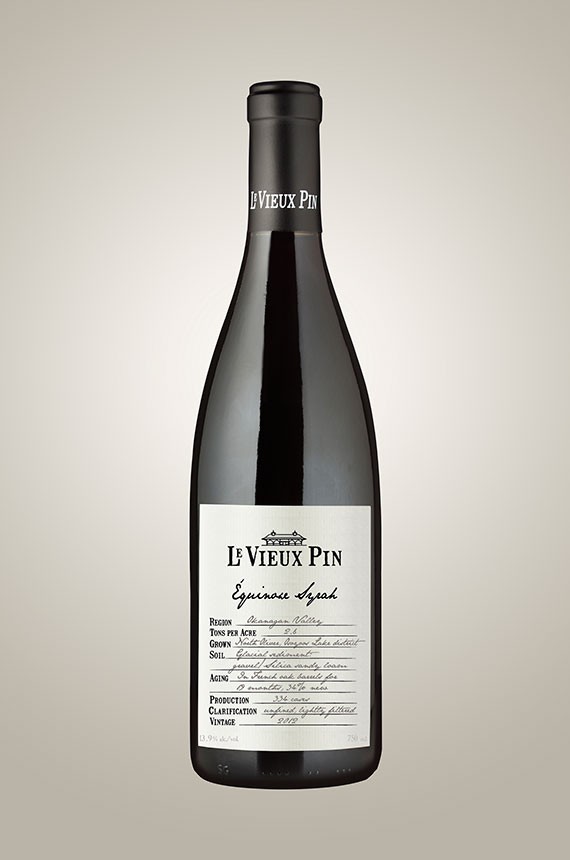 Winemaker's Notes
Équinoxe: equal day, equal night. Equal heat of the day, equal cold of the night. Equal new world, equal old world.
One of the hallmarks of this vintage was the extremely uniformly ripe and clean grapes with minimal need for sorting (quite the opposite of 2008 and 2010 and what we are seeing in 2013 as I type these words). The resulting wines are more fruit forward with a round structure thanks to plenty of sunshine and heat units, and the cool nights resulted in excellent, piercing aromatics and bright acidity in the wine. The resulting effort is a very complex wine displaying a medium+ garnet colour that perfectly and effortlessly combines elements of both old world and new world styles. This monumental wine is at the same time feminine and masculine. It has grace and power, spice and florals, game and savoury notes. Yin and yang come together to showcase a perfectly balanced Syrah.
Food Pairings
Centuries ago the black pepper spice trade launched voyages, wars, and epic tales. Today we suggest trying a black pepper crusted New York Steak paired with this wine to fill the air with all that peppery goodness.
ACCOLADES AND REVIEWS
2015 Icon Wine of the Year "Le Vieux Pin's 2012 Équinoxe Syrah could not be denied the top prize for 2015; well-earned recognition for its ability to proclaim to the wine glitterati "Yes, we can make world-class Syrah in BC!" The Équinoxe demonstrates the extraordinary complexity and refinement the variety can achieve in the Okanagan Valley when the yield and vigour are managed appropriately and the right oak program is applied." IconWines.ca
"Produced in the Northern Rhone method which blends in Viognier (3.5%) during fermentation, then aged in French oak for 19 months before bottling. Still youthful at 3 years of age with further development to come over the next 4+ years, though, it may hold for 10 years or more." 92-94 Points - Liam Carrier | IconWines.ca
"From a vintage that pushes the fruit out in front, this is loaded with tart, tangy blackberry, boysenberry and huckleberry flavors. At first stiff and compact, it blooms open to reveal streaks of sandalwood, sassafras, iron filings and clean earth. It's a high-wire wine with aging potential at least until 2030. Cellar Selection." 93 Points - Wine Enthusiast
"A Syrah [with] a measure of immeasurable complexity. The aromatics of violets, hyacinth and pepper are on magnified display. Add in sage and tobacco. Has grape tannin and wood spice in waves. The coarse salt, liqueur grain and pool of tension require much patience and respect. If [2012 cuvee] Classique needs five, Équinoxe needs ten, or perhaps until the next solar eclipse on the vernal equinox. That will be in 2034. Here's to hoping this hematic pugilist will be ready to drink by then. Drink 2022-2034." 92 Points - Michael Godel | WineAlign.com and Godello.ca
"This is a lovely expression of southern Okanagan syrah - really well knit, fairly ripe and elegant with lifted aromas of dark black cherry, age, pepper, florals and a slightly earthy note. The nose is very fine. It's full bodied, dense, smooth and cohesive then quite dry on the finish, with some sense of both sand and stone. there is some elegance here to be sure. With a slightly meaty finish. Excellent length. Best 2017 to 2022." David Lawrason | WineAlign
"These are superb wines with real definition, and count among the country's very best. They are quite northern Rhône in style, but they also have a bit of the Okanagan about them." Dr. Jamie Goode | WineAlign, on our Syrah series.