2012 Equinoxe Cabernet Franc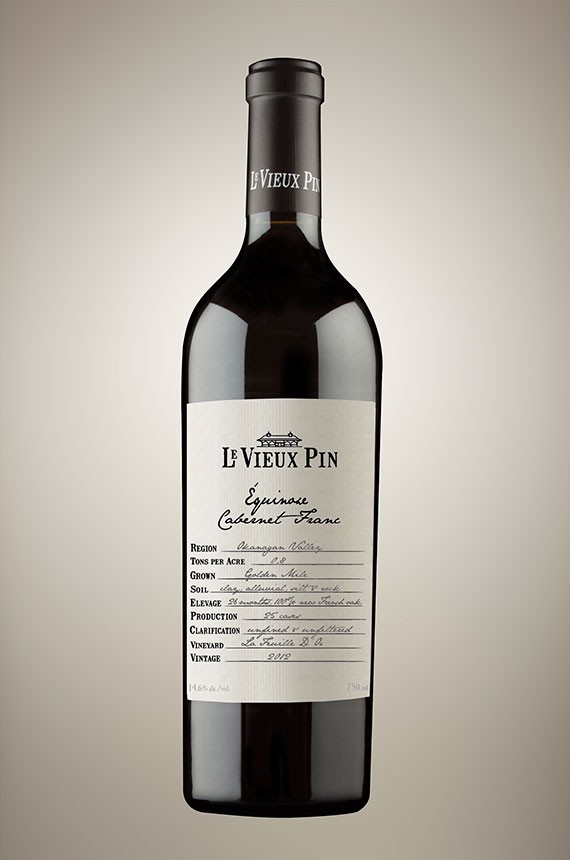 WINEMAKERS NOTES
Équinoxe: equal day, equal night. Equal heat of the day, equal cold of the night. Equal old world, equal new world.
This Cabernet Franc from the single vineyard La Feuille d'Or in the heart of the Golden Mile was the first wine that opened our eyes to the potential uniqueness of the wines of South Okanagan. Here, we get elements of both the old and the new world. The lushness and fruit intensity of the new world marries the structure, acid, nuanced aromatics and complexity of the old world.

2012 was a return to a classic Okanagan growing season: hot days, cool night with dry conditions lead to the lowest yields for this block ever. The vines were cropped at 0.8 tons per acre (compared to an average of 3.5-4 tons for quality-minded growers). Grilled Bell pepper dolmatas, stella cherry, spicy vintage cigar, vintage leather, blueberry bran scone and other hard to pin-point complex aromas greet you on the nose. There is a big weight and some spice present on the palate with a finish that lasts for well over a minute. A monumental wine that is a must buy for lovers of Cabernet Franc.
FOOD PAIRINGS
Meat-Based
Arrachera and Asada Beef Fajita, Bavette Steak and Frites with a Rich Mushroom Sauce are never a bad idea with this bold wine.
Plant-Based
Green Bean Casserole, Charred Eggplants with Tahini Sauce or Corn and Bell Pepper Enchiladas are great with this wine.
ACCOLADES AND REVIEWS
95 Points – "Not yet released, this powerful wine could pass for a Barolo. The immense concentration of texture and flavours results from cropping the vines at 8/10 of a ton an acre and from aging the wine 26 months in French oak. The wine begins with aromas of black cherry, blackberry and black currants. On the palate, the texture is bold, with flavours of black currant, dark chocolate, coffee and spice." - John Schreiner