2011 Maestoso 375ml
1/2 Size Bottle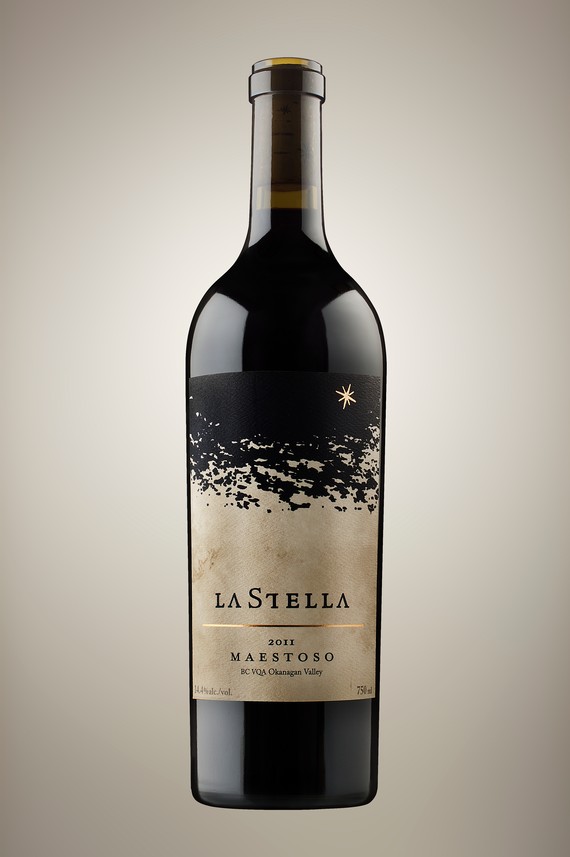 Winemaking Notes
Maestoso is the highest peak in the crescendo, that moment of majesty. It is our flagship wine and the jewel in the crown of LaStella. 2011 was a long and cool growing season without the extreme daytime heat the South Okanagan is known for. This resulted in grapes that achieved full phenolic ripeness at record low sugar levels (and thus low alcohol levels). South Okanagan had an amazing fall with mild weather which gave us the luxury of a seven week long picking window. 2011 goes into the history book as an atypical, yet very welcome vintage.
This is a wine that vineyard site and work in the vineyard and winery can to some extent trump the vintage. In our continuing efforts to ensure that this already breathtaking and astoundingly rich wine is as complete and hedonistic as possible but still carry with it some restraint, we blended in a small amount of Merlot from our Feuille d'Or vineyard in the Golden Mile to help lift the natural acidity and bring some grit and back of the palate tannins to the finished wine.
Maestoso is always opaque in color and 2011 is no different. There is a pronounced nose of blue, black and red berries, smoked meat and café mocha. Huge mouth coating, creamy, ripe tannins leads through to an astonishing finish lasting well over a minute. A monumental wine indeed.
Accolades
Gorgeous, succulent and chewy. Opulent fruit with superb purity and attractive earthy development. Impressive, clearly carefully selected fruit. (RH) 14.4% Drink 2015-2025 (note from winery: single highest score of the entire comprehensive tasting of Cross Canada wines.)
17.5/20 Jancis Robinson & Richard Hemming Purple Pages
And then the beast – Maestoso. With such a masculine monicker, would you even expect any less? The Maestoso "Solo" Merlot 2011, is 100% Merlot primarily from the south Okanagan's Lake Osoyoos District, an area just a stone's throw from the US border that's famous for being Canada's only desert. It is an homage to the greatest of Super Tuscan wines, Ornellaia's Masseto.
Nearly opaque in the glass, Maestoso is a medley of blueberries and autumnal spices, vanilla bean, Espresso and rustic butcher shop fattiness. The tannins pack a tender punch that makes me smile, though of course, they'll mellow out with age. The finish lingers.
Maestoso is the pinnacle of Okanagan Merlot, a young Brando of a wine that shouts from the rooftops "I am what I am!" From a region known more for its Cab Francs and Rieslings, but where Merlot is the most widely grown grape variety, Maestoso is a flagbearer.
WINESHOUT | WINESHOUT.COM | TASTED: OCT 2014


Supremely elegant and nuanced, LaStella's flagship wine, Maestoso, proves that 100% Merlot wines can be just as memorable and complete as equally priced Cabernet Sauvignon when handled with as much care and detailed attention that the Osoyoos Lake winery applies to this beautiful wine. Disciplined vineyard practices and a precise oak ageing program attained the desired complexity and quality; producing a sublime nose layered with dark berry, plum, chocolate-mocha, vanilla toffee and warm spice aromas with an invigorating vein of menthol lifting the developing bouquet. Similar flavours follow on the richly textured and rounded palate supported by fine, ripe tannins and balanced acidity. The finish lingers effortlessly and meaningfully.
With several hours of decanting you can enjoy this wine today, though, 2-3 more years of bottle age would maximize your investment. Drink 2016-2021.
Liam Carrier | Iconwines.ca | Tasted: March 7th, 2014