2022 Petit Rouge
Merlot Dominant Red Blend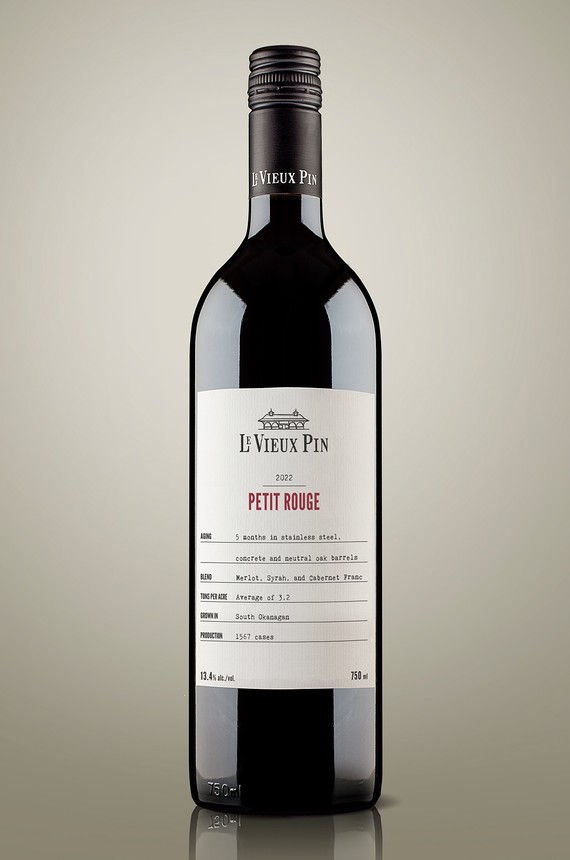 6 or more units
$24.29/unit
PETIT Rouge IN 7 WORDS
Fruity, Spicy, Herbaceous, Balanced, Friendly, Approachable, Versatile
winemaking notes
The inspiration for Petit Rouge is to make a wine that adheres to the same exacting standards and level of care as the rest of the wines at Le Vieux Pin, yet at the same time is more accessible upon release. Made from the fruit of younger vines and vines pruned and cropped at less stringent levels, Petit Rouge offers a big bang for your buck.
This year's blend consists mostly of Merlot, Syrah, Cabernet Franc. Cabernet Sauvignon joins the mix, albeit in a smaller percentage as part of the blend, but it makes its presence known on both the nose and the palate with that unique herbaceous, spicy, black currant note. The palate is lively and harmonious and a great balance of fruit, tannin and acid make this wine quite versatile and very food-friendly.
PAIRING
This beauty goes well with so many different dishes. While it is perfectly fine to drink on its own, it is at the dinner table with food that this wine will shine brightly.
Meat-Based
Enjoy it with pork chops glazed with macerated red cherry sauce or with a pâté & charcuterie board.
Plant-Based
Vegan enchiladas or a hearty ratatouille on brisk fall evenings are perfect companions too!
TECHNICAL DETAILS
Region: South Okanagan Valley
Soil Type: Various
Age of Vines: Various
Yield: 3.2 tons per acre
Production: 1567 cases in 750ml, 400 cases in 375ml
Alcohol: 13.4%
Aging: 5 months in stainless steel, concrete, and neutral oak barrels